Shake Bars & Event Planning specialize in corporate event planning & management in the Seattle and surrounding areas. At Shake Bars & Event Planning, we are in a unique position to provide all event planning services through our in house team; ensuring the highest quality of production and oversight, resulting in flawless events. Shake is a reliable and professional company that will ensure your event planning, bartending and service needs are provided with perfection. The services that we offer include: liquid catering, gourmet food services, event staffing, creative direction and design, custom builds and event rentals, entertainment, staging & venue sourcing. The highly experienced Shake team specialize in working with businesses and can anticipate unique corporate needs. From product launches to in office happy hours or networking events; Shake is here to walk you through the event process, from start to completion.
Inquire about our Corporate Happy Hour Specials! These packages include beer, wine and/or cocktails, non-alcoholic options, all bar supplies and a seasonal buffet of appetizers and deserts!
Full-Service Liquid Catering
Shake Bars & Event Planning is excited to be one of just a few companies in the Seattle area to posses a Washington State Catering liquor license, allowing Shake to sell alcohol to our clients. This allows our team to handle all aspects of your bar planning needs. Shake provides full-service liquid catering; including the alcohol, mixers, garnishes, plasticware/glassware, napkins, ice, event rentals, coffee/tea service, etc. We specialize in craft cocktails, but do it all - beer, wine, and full bars. We pride ourselves on providing local beer, wine and spirit options. Because we secure our alcohol at wholesale rates, it is often cost effective for our clients to have Shake deal with all aspects of the event! We can provide a detailed bid if this is something you have an interest in (send us a note or give us a call).
Shake offers wholesale purchases and price per drink options in the Seattle and surrounding areas. With the wholesale purchase system, our clients would keep the leftover alcohol, and the other being a consumption based system, in where the consumption is tallied and the client is billed for what is consumed only. The consumption based method works really well if you do not want leftover product, or you are unsure of the consumption rates and do not want to run out (we will have more than enough on hand). Although these two liquid catering options are most common, we are here to customize a system that is best for your event.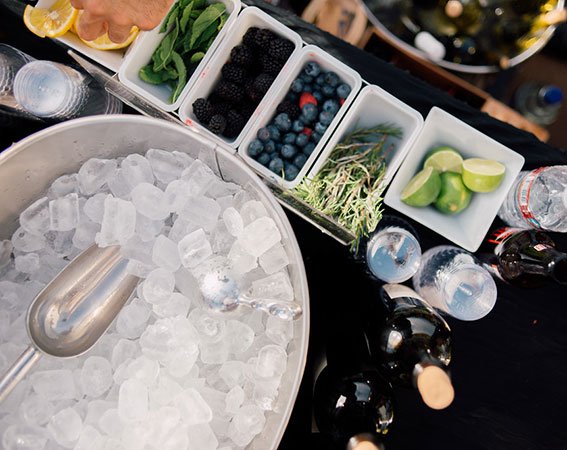 Shake Bars & Event Planning is licensed to provide cash bar services n the state of WA. When offering a cash bar, our clients pay for just the service and insurance costs. Your guests will pay (cash or credit card) per drink. We offer a standard bar that includes a selection of local Washington beer & wine, as well as basic cocktails, top shelf options, specialty cocktails, etc. Drinks range from $5 – $9 depending on your preferences and brand selections. This method can be combined with drink tokens or a bar tab cap. For example, you would like to give your guests 2 free drinks, and then after that they would have the option to purchase additional drinks.
Shake Bars & Event Planning offers a unique take on traditional catering. A little different, yes!, and our clients love it that way. We have hand-selected our favorite menu items from Seattle's freshest and best restaurants; we then gather and pair them, beautify them, and serve em up with a smile :)! We do our best to source local and sustainable offerings. Our service style is 'pinterest-y', but other decor options are available if that's not your style.
Our catering includes table signage, compostable plates/napkins and cutlery (non-disposable rentals available), flower arrangements and the cutest of styles!
Each event is 100% custom, so please let us know a few details about your event, and we will customize the perfect menu that fits your occasion and budget perfectly.
Other fun offerings include ice cream sandwich bars, spiked shave ice, Mimosa & Bloody Mary bars, hot coco & coffee bars!!